Nanjing residential
population
Jiangsu residential
population 80.7million
Chinese city history
5000 years
Distance from
Nanjing to Shanghai
Transportation​ And Location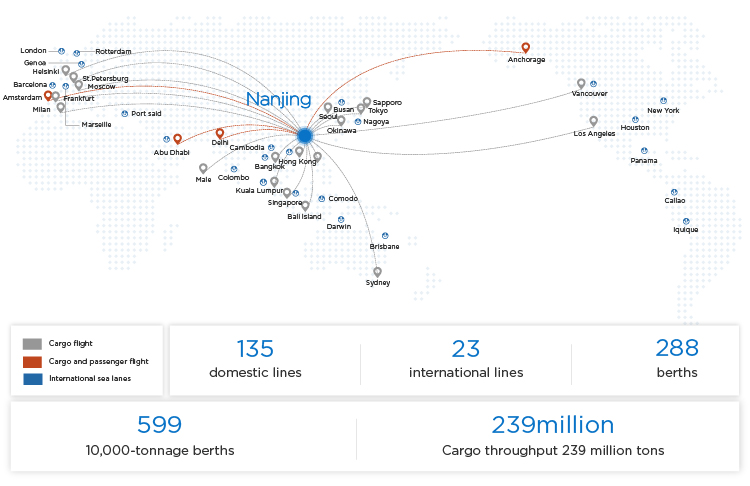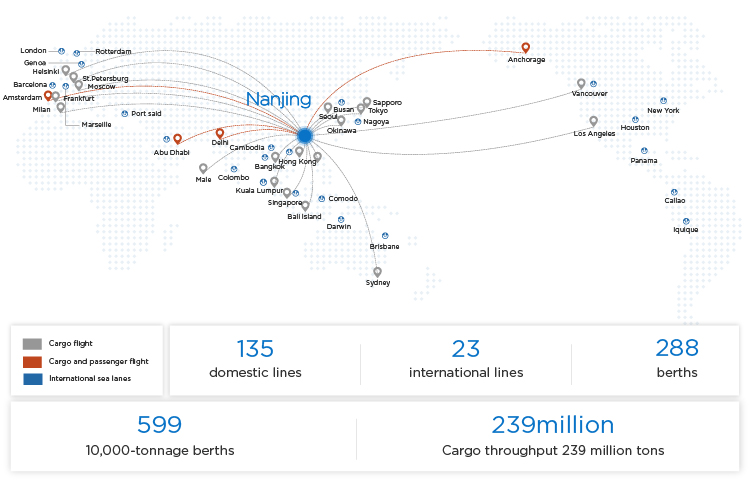 Cargo and passenger flight

Cargo throughput 239 million tons
Air
transportation
One of China's top 10 air transportation hubs.
Flights to major Asian cities within 5 hours.
Flights to places where half of the world's population live within 10 hours.
Railway​
transportation
1.5-hour-travel to municipalities within Jiangsu.
1-hour-travel to Shanghai, Hangzhou, and Hefei.
3 to 5-hour-travel to Beijing, Tianjin, Zhengzhou, and Wuhan.
Highway
transportation
The city with the densest railway network in China.
16 highways to the main city.
Water transportation
One of the top 5 hub ports along the Yangtze River Economic Belt.
24/7 direct access to Nanjing by 50,000-tonnage sea-going vessels.
Access to Nanjing by non-fully loaded 10.000-tonnage sea-going vessels.
Subway
Total length registered 378 km.
The length of subway lines ranked 4th in China and 5th in the world.
The first city in China with subway operating in all districts and counties.
RMB 1.480 trillion(USD 229 billion)
An increase for ten quarters running
RMB 3.4 trillion(USD 493.2 billion)
Among Best Cities for Students
in 2020 QS Ranking
General public budget revenue
Total retail sales of social consumer goods
Accumulative foreign trade volume
UNESCO City of Literature
International City of Peace
UN Habitat Scroll of Honor Award
93 Twinning Cities Across the World
Top 10 cities of opportunity 2019
Pilot city for comprehensive reform of science and technology system
Key comprehensive industrial production base
Key scientific research and education base
Key transportation hub
First Software City
Historically and culturally renowned city
Happiest city in China
Ranked 5th in China's urban business environment index 2019
Ranked 2nd of Online governmental service capacity evaluation of key cities 2019
SHOW MORE
COLLAPSE
The Advantages of Scientific And Technological Innovation​
Forging Ahead Steadily the Construction of Innovation city
208 new research and development institutions
3126 high-tech enterprises
Attracted 1170 high-tech talents
First-class Scientific Research and Innovation Ability in China
120 National R&D Platform
31 National Key Laboratories
168 National Maker Spaces
Unparalleled R&D Ability in China
Output Value of Hight-tech Industry Exceeds a Trillion Yuan
10418 Authorized Invention Patents
The Advantages of Talent Resources


More than 200,000 college graduates every year​

The Third Most Developed City in Education Resources

One of the Four Major Scientific and Educational Centers in China

81 Academicians of CAS & CAE
156 enterprise academician and postdoctoral workstations

No.1 in regard of the number of college students per 10,000 people in China
Cultural Tourism of Nanjing